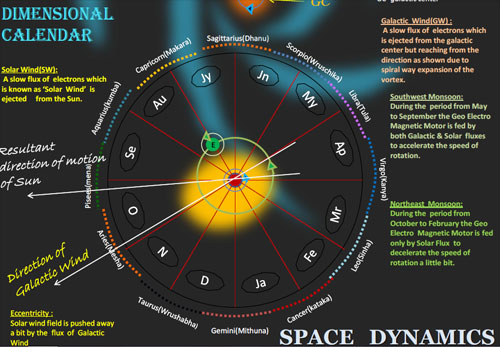 I. CLIMATE AT CHANGE?
1.1 Mankind by the 21st century realized that the climatic healthiness of the Globe is gradually being dropped. Seasonal rain pattern and terrestrial climatic conditions have become so unpredictable that global agriculture was held up in a problematic situation.
1.2 Environmentalists have already fixed the culprit as 'Human Beings' by whom the pleasant global ecosystem is being destructed through their dramatically increased carbon budget by over consumption of fossil fuels, deforestation and over industrialization etc.
1.3 However mankind has got to preserve the Climatic Healthiness of the Globe if possible, by use of all the knowledge so far accumulated through Ages of the Great Human Civilization. It is of importance therefore scanning of the Globe in concern of both interior and exterior factors to find out 'what has gone wrong with it'.
1.4 Specialists must therefore analyze both interior and exterior factors as well, because the planet Earth could not stand alone in the space, for being a small member of the mighty 'Dynamic Galactic Organization'.
2. How does GALACTIC dynamics affect on earth?
2.1 Present day analyzer is well equipped with a rich stock of astronomical data, harvested through soul engagement of ever born scientists in the field and astronautically committed mighty organizations on the planet such as NASA.
2.2 But a radical analyst has to jump forward at once with hand full of hypotheses and mind full of dreamy conceptual models, like a mad without any fear of becoming the laughing stock among the systematic Scientists and Scholars in the field. Through such an attempt, some fresh raw materials are pumped in to the subject fields for argument's and experiment's sake, which could perhaps lead for a rapid prospective development in relevant fields. That is the exact objective by presentation of this technical monograph, 'The Galactic Dimension on Climate Change|Read More|