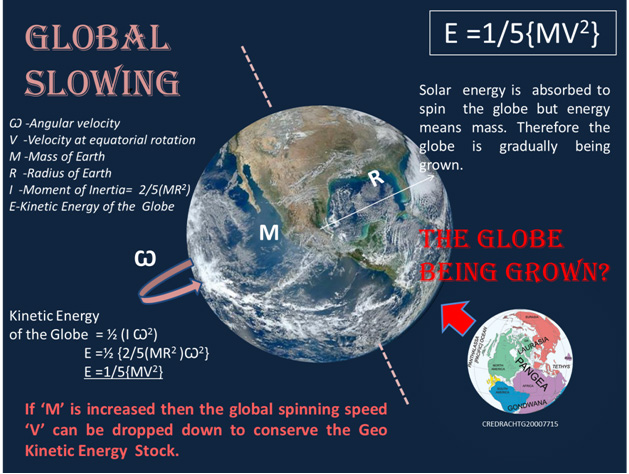 Theory of Solar Mass Transplantation
'Productive Planets' like Earth are spinning about the magnetic polar axis. They absorb 'Energy' from 'Solar Wind' to rotate. Lightning strokes give evidence to prove 'External Energy Absorption' by Earth. Energy is 'Mass' with no arguments [E=mc2]and hence the planet is being grown by mass and size with time.
v    Planetary Orbital Elevation
'Productive Planets' are growing in mass. Then kinetic energy in orbital motion too is increased and the planets are elevated in to far orbits of higher potential energy with respect to Sun.  Earth is elevated at a rate of 15cm per year.
v    Global Slowing
Spinning of Earth is slowed down due to increased surface resistance by 'Megacity Building Columns' and also owing to 'Growth of Earth' in mass.
v    Moon Orbital Elevation
The 'Orbital Motive Force' upon Moon applied by the grown Earth becomes bigger and hence Moon is accelerated. The accelerated Moon is then elevated in to a higher orbit by gradual increment of the distance to Earth.
v    Early Warning of Moon's Departure
Gradual increment of distance between Earth and Moon (by 4cm per year) is reaching to the 'Danger Margin' until the due farewell of Moon, which shall take place on a 'sad daynoon Blue Moon'.