Energy abstraction through renewable energy resources is warmly welcomed by development scenarios for sustainability and hydropower still plays the prime role in world energy production.
The technology of power wheels has a far historic origin such that, Pelton Wheel/1889, Francis/1849 and Keplan/1913 but ever since it remains unimproved resulting a power loss of 20% which is accepted by now, as the due loss at the plant.
Losses with power wheels are naturally expected because a percentage of potential flux is always escaped without even touching the vanes and that means the overall efficiency of the process goes down.
The invention 'Hydropower Engine' introduced herein is a two stroke engine with pistons and the process is of high efficiency probably above 95% due to minimal head losses and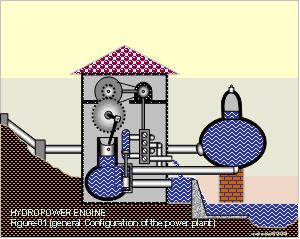 Leakages with the novel technique. A different type of a pressure regulating tank with entrapped air surge chamber too is introduced to soften the possible impulsive inner fluctuation of pressure.