Construction, as a whole, by 21st century has to be adjusted with a clear inclination towards Green aspects of Sustainability for environment friendliness and resilience against aggravating disastrous situations. The history proves, there existed a promising 'Environment Conserved Infrastructure Development' behind any outstanding human civilization ever emerged in the world.
 In face of Global Warming, Climate Change and due disastrous results such as; tsunamis, tornados, earthquakes and tidal rise of seawater, the building standards and specifications have to be reformed or otherwise we are just racing over the turning point overlooking the 'Green Path for Survival'.
The new concept 'Noah Ecoland' is to address the safe human dimension in infrastructure development towards sustainability through;
     I.        Flood plain Reclamation by Eco Landscape Development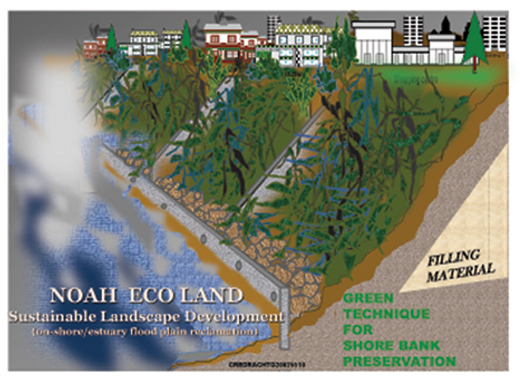 II.        Green Technique of Shoreline Bank Preservation against polar glazier melting & due sea level rise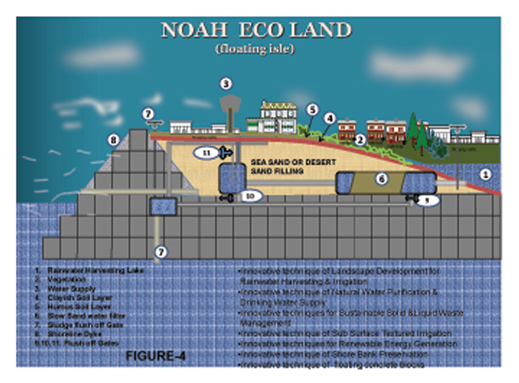 III.        Conduit River Technique of Inland Flood Prevention and on beach hydropower generation
  IV.        Auto Tidal Cutoff Watergate 'ATCW' technique for estuary on- sea land reclamation
    V.        'Noah Ecoland' the floating isle technique for a surviving civilization
  VI.        Energy Efficient Green Building (office building safe against earthquakes and floating office building for estuary development)
VII.        A TYPICAL FLOATING OFFICE BUILDING –ON SEA BIO LAND RECLAMATION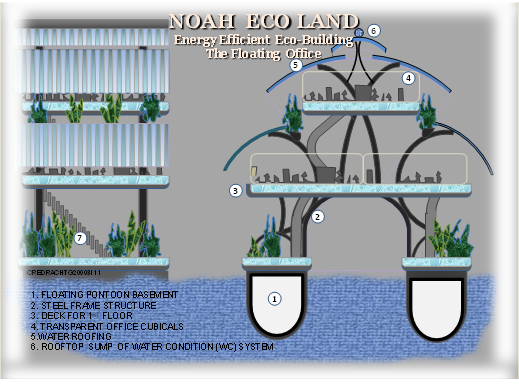 VIII.        EARTHQUAKE RESISTIVE AND ENERGY EFFICIENT TYPICAL GREEN OFFICE
  IX.        Water Roofing for cooling and maximum use of daylight in buildings (figure-1)
    X.        Natural air circulation technique for summer and energy efficient heating water panel partitioning technique for winter
  XI.        Surface & Subsurface Rainwater Harvesting & Natural Water Purification
XII.        Sustainable Solid &Liquid Waste Management and the technique of Sub Surface Textured Irrigation
What do you mean by 'Green Building'?
Green Building doesn't mean greenish color painting or covering of a dwelling/ office building with a bush of plants but the building ought to be energy efficient to reduce carbon dioxide budget to the atmosphere and essentially it should not leave any non degradable/non recyclable wastes to remain depriving a pleasant landscape for our future generations to build their own world.  
The concept 'NOAH ECOLAND' is a novel combination of different technologies to create a Green Habitat for self sufficiency in food, water and energy for a long lasting civilization with capability of surviving against forthcoming natural disasters.