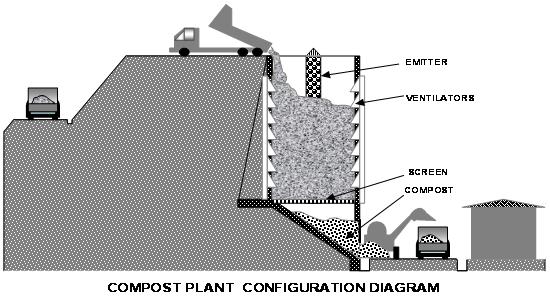 Collecting garbage and dumping or disposal is a very narrow boundary of MSWM which could not be sustainable at all. If the system boundaries of MSWM is extended for sustainability of the process, the due sequence of the entire process should start from a methodology for 'Reducing Waste' and end up with 'Income Generating' through reusing, recycling and recovery.
Conceptual Model for a sustainable Municipal SWM is;
  1). Sorting before Dumping
  2). Collection
  3). Transport
  4). Processes of Reuse, Recycling, Recovery & Land filling
Depending on the demand for reuse and recycling, the load is reduced at the phase of 'Collection' itself. Only the separated carbonic waste, land filling materials and matters with a calorific value for energy recovery are remained for processes.
The invention 'Municipal Organic Waste Compost Plant' introduced herein  is a novel combination of techniques to keep on the function of composting the municipal carbonic waste flow continuously. There is an array of chambers to be filed one after another and the retention time is designed to suit the flow of waste and time required for composting process.