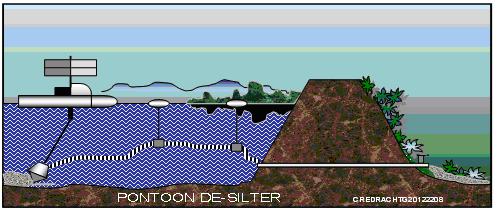 Sedimentation in reservoirs has become the biggest issue in water resource management because it vastly reduces the live capacity of fresh water bodies decreasing hydropower capacity too.
De-silting is a process in the background art, which requires much cost, waste and labor. Application of heavy machineries to cut and remove the silt is too costly of an approach and the biggest disadvantage with that methodology is the unavoidable loss of biodiversity of the ecosystem when the reservoir bed is dried out for cutting.
The invention 'Pontoon De-Silter' is a novel technique of removing the sediment when reservoir is at full operating levels. It doesn't disturb any of reservoir functions such as irrigation water issues, hydropower generation, tourism or inland fishery etc.
The process is quite automatic because the cut sediment is automatically removed due to potential head difference and the cemented silt is cut by natural wind energy if a 'Wind Blade Turbine' is used to rotate the cutting impeller.